Slideshow: All the Glitz, Cake, Tiaras, and Confetti From the Princess of Monaco's 'Other' Royal Wedding
You know something's a big deal when Karl Lagerfeld, Nicolas Sarkozy, and like twenty people wearing crowns show up.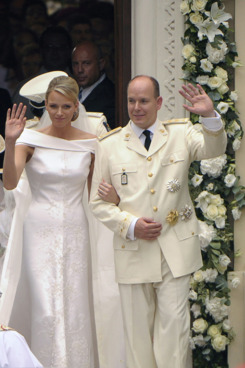 While all our fireworks these last few days were for Fourth of July parties, over in Monaco they were in celebration of Prince Albert II of Monaco and Charlene Wittstock's "other" royal wedding. Because royal weddings are always allowed to be this grand, the affair took days, with a low-key civil ceremony on Friday followed by a religious one on Saturday. On both highly visible occasions, the bride wore looks by Giorgio Armani, but very different ones for sure. Click through our slideshow for images from both days' festivities, including the dazzling lineup of European royalty looking decadent in their tiaras and military getups, along with a few supermodels like Naomi Campbell and Karolina Kurkova. Also enjoy shots of fashion royalty like Karl Lagerfeld, who arrived with a buff young bodyguard in tow. And do spend an extra few moments on slide No. 49, where you'll find the fabulous Helga Piaget, a new favorite here at The Cut based on that photo alone.