Anna Wintour Receives the Légion d'Honneur From President Sarkozy
For the occasion, she wore Chanel couture that had basically come off the runway five minutes ago.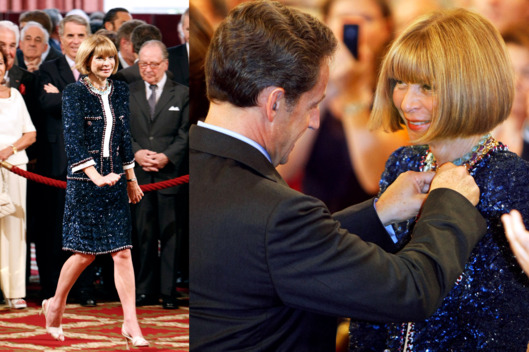 To add to her list of medals and honors, including the British title Officer of the Civil Division of the Most Excellent Order of the British Empire, French president Nicolas Sarkozy gave Anna Wintour a Legion d'Honneur award the other day. Wearing brand-new Chanel Couture that had walked the night before — without the light-up shoes, sadly — Anna accepted her pin in front of a crowd that included Bernard Arnault, Karl Lagerfeld, Stefano Pilati, Donatella Versace, Tommy Hilfiger, Alber Elbaz, Franca Sozzani, and Riccardo Tisci. "We had this very nice cocktail, where Anna made a very funny speech," Lagerfeld told WWD. It is not just the rare woman who gets this award, but the rare woman who gets it pinned into Chanel haute couture that basically walked off the runway five minutes ago. Bravo Anna!
FRENCH TOAST [WWD]