Chloe Moretz and Hailee Steinfeld Also Booked Covers of the New LOVE
Five more covers are yet to be revealed, but Derek Blasberg spoiled who's on them.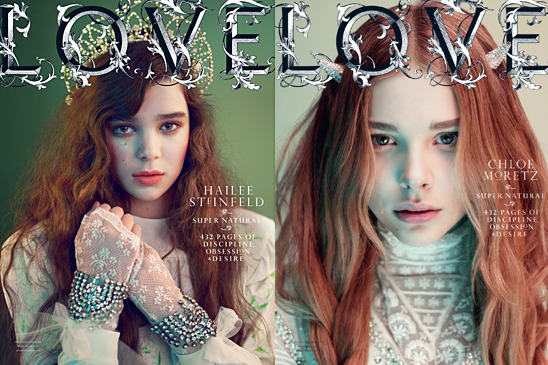 The third and fourth of the many new LOVE covers feature Chloe Moretz and Hailee Steinfeld crying — but you know, pretty crying, just like Elle Fanning. (So that will be a theme then, unless Mert and Marcus were feeling particularly mean on set that day.) Derek Blasberg also tweeted last night that Katie Grand had revealed the other cover stars, and they're all models: Nyasha Matonhodze (her previous cover was just a preview, it turns out), Daphne Groeneveld, Lara Stone, Mariacarla Boscono, and Kristen McMenamy.
So fashion's current teen triumvirate are continuing to share the spotlight pretty equally, at least so far. That'll surely keep them all playing nicely together at A-List parties and auditions. [Models.com]