Dior Couture Suffers Without John Galliano
Stumble Upon
The couture shows, one of the most fun times of year in the fashion calendar, are here. While you were getting drunk and sunburned yesterday in honor of our nation's independence, the finest, most expensive dresses in the world were beginning their biannual parade anew in Paris. Christian Dior remained one of the most anticipated shows of the season, but for very different reasons this season than so many past. Dior couture walked in Paris without John Galliano overseeing design for the first time since 1996. And though his absence is surely felt at the end of the show, when he would take a walk down the runway and bow with all the flourishes of one of his models, it was felt more in the clothes on the runway — a collection critics agree lacked polish, restraint, and clear vision. Bill Gaytten, Galliano's right-hand man who was recently appointed head designer of the John Galliano label, oversaw this couture collection as well as the most recent Galliano men's show, which critics looked on approvingly. Yesterday's dresses were a very different story.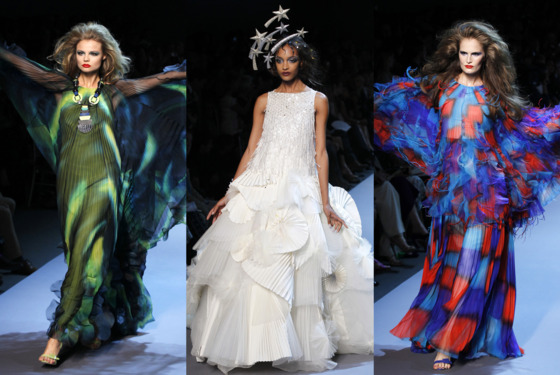 Times critic Cathy Horyn writes she was "surprised that the house gave so much play" to Gaytten. She supposes Dior management were using the show as a test for Gaytten, to see if he would be the right man to replace Galliano at the house — a rumor that's been intensifying since he landed the John Galliano job. In regards to that, WWD writes:

If a germ of truth ever existed there, this show likely squashed it. And perhaps unfairly. This was not about an in-house designer or designing partners attempting can-do reinvention. Rather, it telegraphed interim status, and in haute couture, interim doesn't work.
Gaytten is a great tailor and pattern cutter, but "he is not a designer," Horyn writes. The International Herald Tribune's Suzy Menkes was likewise harsh, adding, "This carnival of a show looked like a bunch of partygoers had done a witty, wacky take on Dior extravaganzas."
Gaytten was true to Galliano in his work on this collection, from the makeup to the boldness to the way the models walked the runway. But without officially having Galliano's old job, he lacks license to express his vision — a new vision — and the house is stuck in an awkward holding pattern. Horyn reports:

Backstage, Mr. Gaytten said it was time to do something a bit more modern at Dior. And when asked if he wanted the creative director job, he said, "Yeah, I do," and added, "I'm not a fool."
Horyn worries that the label's management was among the too many people involved in this collection, and when that happens, "you just wind up with a mess."