Joe Jonas and Karlie Kloss Assumed to Be Dating After Going Into a Photo Booth at the Royal Polo Match
It is notable that they managed to steal some attention from Prince William and his new wife at this thing.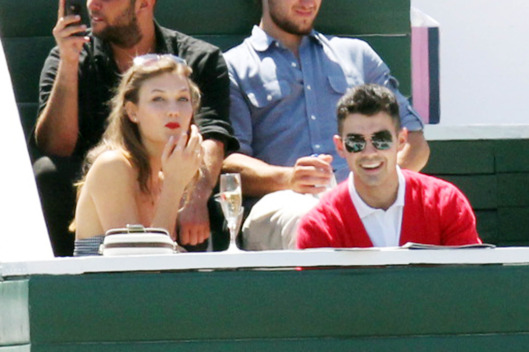 Top model Karlie Kloss, 18, and top tween heartthrob Joe Jonas (or ex-top tween heartthrob? Do tweens care about him anymore?), 21, watched Prince William play a charity polo match at the Santa Barbara Polo & Racquet Club over the weekend. According to People, they were acting couple-y the whole time, doing things like taking photos in a sponsor's photo booth together, where they "gaze[d] into each other's eyes," and later "chatt[ed] it up in the stands." The magazine labels them "a romantic match." Whether or not they are actually an item, kudos to them for getting so much attention at an event in America where Prince William was playing polo and Kate Middleton was standing on the sidelines, wearing clothes and watching him. It's hard to compete when Kate's around wearing a dress and shoes.
Joe Jonas, Karlie Kloss Are a Romantic Match at Prince William's Polo Game [People]