Madonna's Material Girl Line Will Soon Include Padded Bras
ZOMG and scented body mists and glittery lip glosses!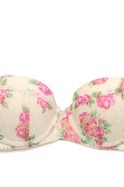 Having enjoyed a profitable first year and recently snapped up Kelly Osbourne as its new face, Macy's is boldly expanding Material Girl, their collaborative juniors line with Madonna and her 14-year-old daughter, Lola, just in time for the back-to-school shopping hordes. Over the next few weeks, they'll roll out intimates, body products, makeup, and formal wear (it's never too early to start shopping for prom, eeek!!!). Lola apparently took a special interest in the new perfumed body products, which have scents she "loved" like Flirty Fruit, Wicked Watermelon, and Sinful Sugar. There's also this generously padded push-up bra (shown), which would have utterly terrified our 14-year-old selves.
Material Girl Expands into Beauty, Intimates and Party Dresses [WWD]