May Rihanna's Sequined Glamour Butt Light the Way for More September Cover Releases
It's that time of the year, when the fattest issues come out.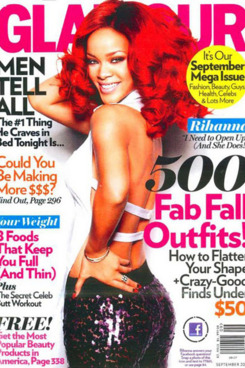 It's that time of year, when the most important issues of major women's magazines come out. Ushering in September — or fall/WINTER, depressingly — for Glamour is Rihanna, who evidently prefers to back into the season. Her big red, red hair obscuring the pink Glamour typeface, the magazine comes at us with hard-hitting stories on the diva opening up (presumably more than the back of her top), on staying thin, and on satisfying your man's sexual cravings. Yes, the September issues are really here. Too bad that the only way you'd know it is if all those extra ad pages literally smacked you in the face.