Meet the New Girl: Janice Alida Would Make a Really, Really Good-Looking Chef
Stumble Upon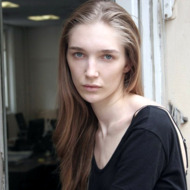 Twenty-two-year-old Canadian Janice Alida just signed with revered model agent Paul Rowland's Ford Models division last year, and already the Alberta-native has walked for Marc Jacobs and Proenza Schouler during the fall 2011 fashion shows in New York. Additionally, the serene, dough-eyed model was a perfect fit for a photo shoot with Paolo Roversi for AnOther Magazine, and was featured in Teen Vogue as a face to watch, shot by Sebastian Kim. We spoke to the recently married beauty about her dress for the big day and guilty pleasures.
So you got married not too long ago — congrats! Can you share any details?
It was very big, in the heart of the city in a gorgeous, glass building. There were lots of greenery and trees inside, and it was surrounded by high-rise buildings. Very stunning! My dress was head-to-toe lace with a high collar and a deep-V back, and [my fiance] Andrew wore the most amazing tuxedo I've ever seen!

Tell us a little about your childhood.
I was born in Calgary and raised mostly just outside of Vancouver. I'm the second-oldest of four siblings, and I was an athlete, committing my high school years to varsity volleyball. My dad owned a business while I grew up, and my mom was a stay-at-home mom.
Most memorable experience from the fall 2011 runway season?
Walking for Marc Jacobs! It was an amazing collection and a lot of fun. And I loved working with Marc!
If you could meet anyone dead or alive, who would you meet?
Jesus Christ, or my parents, when they were my age.
Let's play favorites, what is your favorite:
Film? The Holiday and Changeling
Musician? Too many to count.
Food? I love sushi and other Japanese food. I also love Indian. And I could never do without my mom's cooking!

What's the one thing you couldn't live without?
My cell phone. It's so important for me to stay in touch with friends and family, more than anything in the world.

What scares you?
Being helpless.

Life motto?
Nothing matters more than the relationships in your life. Also, do to others what you would have them do to you.

What are your plans tomorrow?
I'm doing a resort show in New York, and then I'll probably go apartment hunting with Andrew.

Your idea of happiness is …
Being with the people I love the most, whatever we may be doing or wherever we may be.

Guilty pleasure?
This Japanese restaurant called Deer Garden near my home in Canada. Andrew and I are both absolutely obsessed with it.

If not modelling, what would you be doing?
Probably culinary school.
Where do you see yourself in five years?
Married. And if not modelling, then living either in New York or back home, and in school.
Explore other rising stars (plus all the big names) in our extensive Model Manual, featuring runway pics, glamorous editorials, model bios, career timelines, and more.