​See the Top Designers at the (Capsule) Menswear Showcase in Paris
Including Riviera Club, Jack Spade, RJB, and Heirloom by Billy Reid.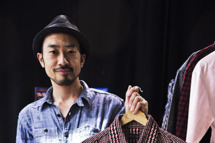 Because God forbid anyone not have clothes to look at between the menswear shows and couture collections in Paris, last weekend the city hosted the (capsule) trade fair, displaying a slew of small menswear labels. We picked a bunch of our favorite offerings from the showcase, including Jack Spade's neat guitar-strapped weekender bag, Billy Reid's "bohemian" woven shorts, licorice-infused shoes, and a pair of scratch-and-sniff jeans. (The scent is raspberry.) Click through the slideshow to see the selection.