Video: Wearing Prince William's Wedding Suit on the Streets Amongst Plebeians
Fellow plebeian Alex Rees tried on that famous red jacket to ask regular folk how royal he actually looked.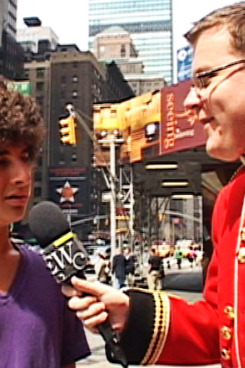 As part of a promotional visit organized by Custom Tailors and Designers Association, British tailoring company Kashket & Partners — Prince William's personal tailors — brought a replica of the snappy red Irish Guards jacket Wills wore to his wedding to this season's Designer Forum in New York. Obviously, I went to try it on.
With two bodyguards from the tailors at my side, we hit the streets — in 90-degree weather — to see if people thought my look was more royal than marching band. See what happened in the video.