Proenza Schouler's Fall Ads Are Nice and Bright
Which is to be expected, considering the bold prints from the collection.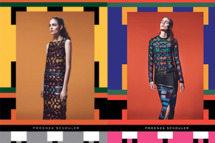 Zuzanna Bijoch wears pieces from the Proenza Schouler's geometric print-heavy collection for the new campaign, with the shots bordered by an equally intricate pattern. Full-size photos are in our now quite substantial slideshow of fall 2011's ads.