Rihanna Replaces Megan Fox in the Next Round of Emporio Armani Underwear and Jeans Ads
Oh good — she needs the press.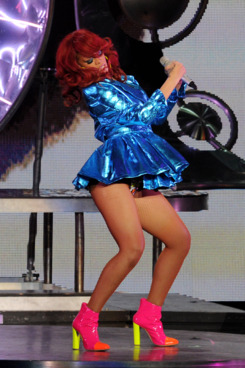 The label just announced Rihanna as its new face for ads shot in New York that will come out this September. The campaign is known for casting some of the sexiest faces in entertainment, including the Beckhams, Megan Fox, and Cristiano Ronaldo. Whether or not Rihanna will get to pose with whips and chains that excite her, and possibly the world (the Beckhams got only a big rope), this is a good direction for the diva. Her deal surely includes a mandate to wear Armani for red carpet appearances, and Rihanna is one of those people that will surely benefit from the pared-down appeal of a good piece of Armani eveningwear. Then again, she could just as easily diva her way into the sort of treatment they gave Lady Gaga. But, man, would it be refreshing for her to seize this opportunity to exercise a little restraint.