Slideshow: The Week in Street Style
The choicest pickings from the style blogs this week.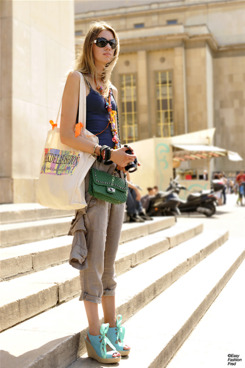 This ridiculous heat wave is cresting today and tomorrow, reducing all fashion decisions to two important questions: (1) Can I sweat all over this piece of clothing, and (2) after I sweat all over it, can it go in the washing machine? This makes looking chic basically impossible, so here are some photos of cool-looking people to make up for all the ones you won't see on the sidewalk right now. Favorites include April (shown), who adds zing to a casual summer outfit with punchy accessories, captured in Paris by Easy Fashion, as well as Emilie, photographed in breezy linen pants by Stockholm Street Style.