One Pair of Shorts + Five Stores = Five Cool Menswear Looks
See how Steven Alan, Odin, and more styled one pair of men's short shorts.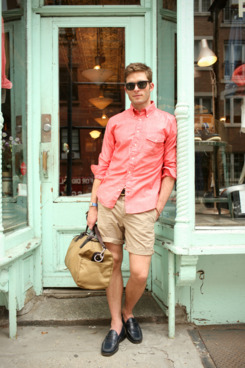 As temperatures rise, so do hemlines, and this season, even guys are getting in on the leg-baring action. On and off the runway, men are trading in their longer cargos for a more fitted, above-the-knee option. In this edition of "Take Five," Minnesota-born Ford model Gerad Ablers took a pair of All Saints shorts to five menswear spots in the city. See how Odin, Steven Alan, Palmer Trading Company, Assembly New York, and Sean styled the new summer staple in the slideshow.