The Shoes at the Chanel Couture Show Lit Up
Anyone who didn't feel like going to the show at 10 p.m. was well rewarded, then.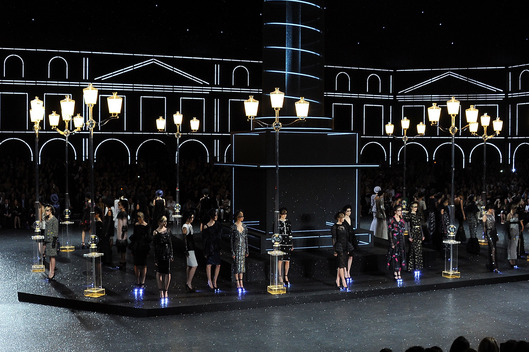 Karl Lagerfeld is one of very few people who could get away with scheduling his fashion show for 10 p.m., especially during the relaxed couture schedule. At that hour, everyone is supposed to be out at a party in celebration of the launch of a postage stamp or ice cream bar or whatever else the industry has decided needs to be celebrated that evening. But last night, everyone fabulous — Anna Wintour, Andr! Leon Talley, Diane Kruger and her husband Pacey, Alexa Chung, and male model wonder Baptiste Giabiconi — went to the Grand Palais at ten to watch the fall 2011 Chanel couture show. Karl — whose previous elaborate fashion-show sets have included an iceberg, a barn, and a volcano — turned the Palais into the Place Vendôme, replacing the Napoleon Bonaparte statue with one of Coco Chanel. The Kaiser is said to have wanted the space to be awash in moonlight. But in case that didn't pull through, he had backup illumination, and it wasn't just the famous people: At the end of the show, as the models stood for the finale and Karl took his walk through the set in acceptance of the usual outpouring of admiration, the boots the models had worn in the show lit up.
Paris Haute Couture: Chanel autumn/winter 2011 [Telegraph UK]