Preview FIT's Daphne Guinness Exhibit
McQueen, Chanel, more McQueen, and more Chanel.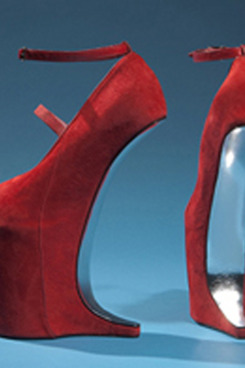 She owns Isabella Blow's entire clothing collection. She was a friend of Alexander McQueen. Tom Ford calls her "one of the — if not the — most stylish women living." If anyone else wore her heels, they'd probably be in the hospital. And on September 16, the Museum at FIT's exhibition of Daphne Guinness's clothing collection begins! It's likely to be the best thing to happen in New York since the Met's McQueen exhibit; Guinness was not only a friend but collector of the late designer's work, pieces of which will be on display at FIT's museum. Guinness is creating images and video for the exhibit, which will also have plenty of photographs of her taken by other world-renowned people. In the slideshow, see a few of the 100 fashion items from her extravagant collection going on display next month.