See All the Looks From Gaga's New Video 'Yoü and I'
Including: crazy hats, mermaid tails, metal face stuff, and more.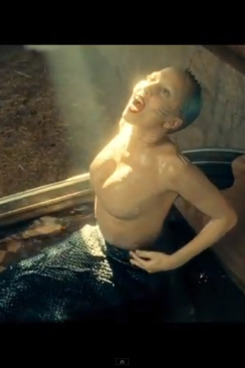 Why does Lady Gaga's new single, "Yoü and I" have an umlaut over the u? Because it's a Gaga thing to do: put a hat on anything, even a letter, and never lose sight of how to keep things from making sense. That ethos pretty much sums up the fashion in the single's video, which just came out. Gaga starts off in a strong look, including a wonderful hat affixed with a cascading asymmetrical veil and huge silver-rimmed sunglasses. Mostly, she proceeds to change into other strong looks, including a turn as her alter male ego Joe Calderone, whom she, as girl Gaga in a more forgettable nightgown-esque dress, makes out with toward the end of the video — bringing the inevitability of her making out with herself to fruition. See all her "Yoü and I" looks, including her mermaid tail, signature thong dancing costume, and more in the slideshow.