Exclusive First Look: Glenda Bailey Celebrates a Decade With Harper's Bazaar: Greatest Hits
Stumble Upon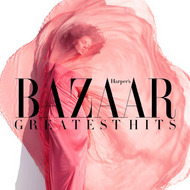 This fall will mark Glenda Bailey's tenth anniversary as the editor-in-chief of Harper's Bazaar, an occasion she's marked with a hefty coffee-table book of her favorite covers and spreads from the last decade. The magazine's reputation for whimsical, imaginative stories — a Simpsons version of Marc Jacobs, Naomi Campbell racing a cheetah across an African savannah, or Oscar de la Renta posing next to Sesame Street's Oscar the Grouch, to name a few — is distilled into 320 pages of iconic photographs and illustrations. We chatted with Glenda about her past ten years, her most nerve-wracking editorial moments, and her future at Harper's Bazaar.
Are you able to pick an all-time favorite spread?
The Simpsons spread is definitely up there. Marc Jacobs liked the cartoon picture of himself so much that he got it tattooed on his arm, which was of course the ultimate compliment. Out of anyone, Marc has the greatest sense of humor about pop culture and how it relates to high fashion.
I think you can even see that tattoo in the nude photo with the Stephen Sprouse paint.
Yes, you can! I got the idea for that picture when Marc Jacobs and Louis Vuitton were re-releasing the Stephen Sprouse pieces [in 2009], and so I went up to [Marc] at a party and I pitched him on it. I said, 'You know, we'd really like have you pose nude with the Stephen Sprouse pattern painted on you,' and he was like, 'Okay,' right then and there. He didn't even blink.
You've convinced some designers to do really goofy things, like pose in a Halloween costume or with Sesame Street characters. How do you get them to agree to it?
Honestly, we just ask them. It's a matter of making them comfortable on set, of course, but people in the fashion industry understand the importance of a dramatic, beautiful picture. They know we want them to look good and that we're trying to make an iconic image, so they're willing to work with us.
How about those pictures of Naomi Campbell with wild animals? Did you really have her running with cheetahs?
Of course not! Jean-Paul Goude has mastered the art of what he calls 'the French correction.' A huge part of what makes him such a great artist is his ability to manipulate images after he's photographed them. So he actually went to game reserves in Africa and shot these animals, and then he shot Naomi in his studio back home, and fused the results together to make these pictures.
Were there any shoots that were so problematic you thought you'd have to call them off?
Um, all of them! [Laughs] Sometimes it was just a matter of having to delay things until you could get them right. For example, we wanted to do a play on Rachel Zoe's catchphrase "I Die," and it took almost a year to put it together, just coordinating all the different designers' schedules.
So what's your plan for the next ten years at Harper's Bazaar?
It's so hard for me to think ahead that far. I always look ahead in terms of the next projects we have coming up. You know, we're always planning just season by season. Obviously, on a more long-term scale, we're working on increasing our website and online presence. That will be a big priority for us.
What would you do if you weren't an editor?
Well, I went to school for fashion, and after school I had a job doing trend forecasting. Obviously that's related to what I do now as an editor, but I've always really enjoyed helping designers hone their vision into something marketable. I love giving designers advice when I can. Of course, I don't do it for money, because that would be a conflict of interest, but if I weren't an editor I would love to do it more.
I read this funny quote where you said that in the U.K. sex sells, but in America, it's hair.
Yes! It's true, though. Americans are really obsessed with this idea of self-improvement, or even self-perfection. Just look at the bestselling books: They're all about self-improvement. But the British still have this guilty mentality that it's a little bit embarrassing to be vain and spend time and money on yourself. Also, the British have always looked up to the royal family as the epitome of glamour, and it was their exploits that made headlines. Of course, America's royalty is Hollywood. And now we all have Kate to admire, on both sides of the pond. I do believe that fashion is really global, though, at this point. All of the best brands are truly international.