Jersey Shore Fashion Recap: The Best, Most Shocking Looks From the Season Premiere!
JWOWW got thin! Snooki color-blocked! JWOWW got thin!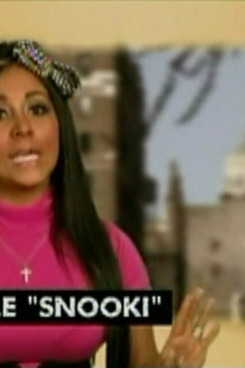 A definitive sartorial shift occurred between the first and second seasons of Jersey Shore. The cast returned as famous people, not mere plebeians from the wild, having received money and perhaps advice with which to do something to their images. Each season, they spruce up a little bit more — new veneers, new necklaces, new weaves, new shoes — while retaining their looks' key signatures — old boobs, old tans, old spandex, old "did I take acid or is this something I'm actually looking at?" color combinations. On last night's season premiere, only a few cast members displayed a definitive sprucing up (Deena, Pauly D, Ronnie), some were just tackier (okay, all of them were tackier), and one underwent a shocking physical transformation (WTF JWOWW?!). In the slideshow, relive the best fashion moments — and JWOWW's new face and skinniness — from last night's episode.
For more details on the plot ("plot"?) in last night's episode, head over to Vulture for the full recap.