Jersey Shore Fashion Recap: Waist Belts, So-Five-Years-Ago Headbands, Minimalism, and More
See the greatest looks from last night's episode.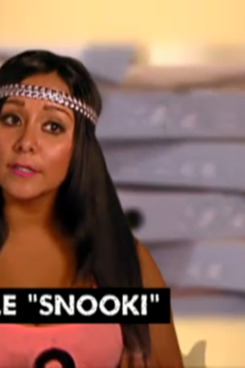 Last night's episode of Jersey Shore picked up with the same nightclub scene they left off with last week, so everyone was wearing the same outfits for the first bit of the episode which, like this episode, was pretty boring. Yet while there were no good fights between humans, there was a brilliant clash between a leopard bag and zebra belt. And while there was no hooking up worth speaking of, Sammi has entered into what looks like a long-term committed relationship with her giant, black, patent waist-belts. And while no new friendships seem to have formed, the Situation is now joined at the hip with his many colorful sweatpants. While some cast members regress — Snooki's Arden Wohl headband — at least one is moving forward — the shockingly minimal JWOWW. See those looks, terrifying fake nails, and more in the slideshow.
For more on last night's episode, head over to Vulture for the full recap.