See Karl Lagerfeld's Complete Macy's Line
See the full Karl-ness of it now.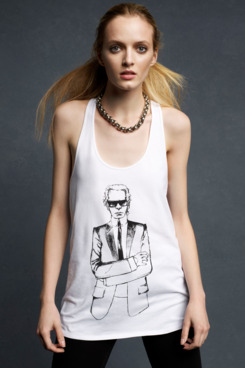 "Some of it will be a reach," is how a Macy's executive described the chain's limited edition line by Karl Lagerfeld coming out August 31 in 235 Macy's stores and online. A shot of a dress from the collection, which includes 45 pieces ranging from $50 to $70, has already appeared in Vogue, but the full thing, the full Karl-ness of it all, is only out now. In the slideshow, view the entire collection, consisting of lots of tailored pieces for the office, some flirty day dresses, and even tanks illustrated with Karl's likeness. It's all very Karl, meaning that if you want to dress like the girl version of him, but not invest in real leather, it's just the thing for you.