Kate and Pippa Middleton Went for a Walk on the Beach
But it's a British beach, so too cold for flip-flops or swimmies.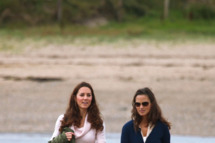 The Middleton sisters got together over the weekend, with Pippa (and her boyfriend) visiting Kate out in Wales, where she's currently living with Prince William. The siblings went for a nice walk along the beach on Llanddwyn Island — Kate in a pale pink cowl-neck sweater, skinny jeans, and Wellington boots; Pippa also wore jeans, paired with a navy cardigan, a white tee, and athletic sneakers. As always, see the full, and very country casual, outfits in the Kate Middleton Look Book.