Linda Evangelista Demands $46,000 a Month in Child Support From François-Henri Pinault
Her lawyers say the billionaire hasn't spent a penny on the 4-year-old boy.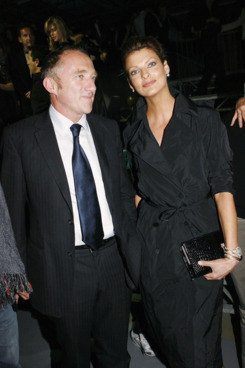 Yesterday, Linda Evangelista was in Manhattan Family Court again, fighting for child support for her 4-year-old son, Augusten James. Only recently, it was awkwardly and scandalously revealed that the boy's father is François-Henri Pinault, who you know otherwise as Salma Hayek's husband and father to her 3-year-old daughter, Valentina, as well as the CEO of PPR, which owns Gucci, Yves St. Laurent, and Bottega Veneta, among other labels. The model's lawyer says Pinault has paid nothing in child support to Evangelista, who now asks for $46,000 a month from him — in what "would probably be the largest support order in the history of the Family Court," the judge said.
Model wants pretty penny [NYP]