Meet the New Girl: Ollie Henderson Thinks She Reads Too Much Philosophy
"This has been my year of not caring. I feel like I've spent the past few years thinking too much about existential questions; Why are we here? What's the meaning of life?"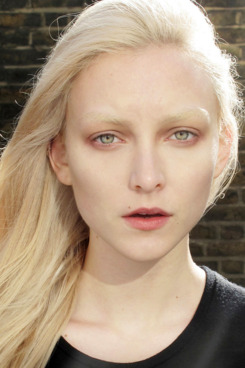 Australian model Ollie Henderson is not afraid to have a personality — something models are often told is important just as often as they're made afraid to be themselves. A close friend to fellow models Rachel Rutt and Myf Shepherd, Henderson was discovered as a sophomore in high school while shopping in her native Melbourne. Now 21, the David Sims favorite has already walked the fall 2011 shows for cool London labels like Marios Schwab and Roksanda Ilincic, and shot for directional fashion magazines like The Gentlewoman, Tank, and Metal. We chatted more with Henderson, who's about to walk in her first New York Fashion Week, about her diet, "year of not caring," love of Patti Smith, and more.
Explore other rising stars (plus all the big names) in our extensive Model Manual, featuring runway pics, glamorous editorials, model bios, career timelines, and more.