Meet the New Girl: Wang Xiao Danced Like a Mad Woman for Her Calvin Klein Campaign
Stumble Upon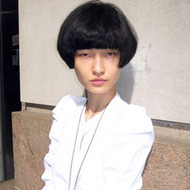 After chopping off more than half a foot of her long, black hair, Wang Xiao signed with the Wilhelmina modeling agency last year. Two days later, the Chinese model, now 21, attended a casting with Steven Meisel and landed a lucrative fragrance contract with Calvin Klein's one scent, alongside marquee names like Lara Stone and Abbey Lee. We met with the bubbly, chatty Xiao last week to talk about meeting Meisel and her trademark bowl cut.
Tell me a little about your childhood.
I was born and raised in Beijing. When I was young, I lived with my grandparents because my parents were busy working. I often stayed at the neighborhood daycare and I was very quiet. I got into music and dancing later on though, and that helped me express myself.
How did you get discovered?
When I finished high school, I was a waitress at a hotel, but I always had an interest in modeling. So, my mother looked in the local newspaper for me; she was always supportive of my modeling career. I eventually went to acting school for a year and half, where I met a friend who recommended that I enter this modeling competition. I didn't win, but that was my beginning.
Your mushroom-bowl cut is your trademark, whose idea was it?
It was my idea! I always had long hair and I wanted a severe change. I went to my friend, David Tien, who's a makeup- and hair-stylist, and he chopped it all off. All I had to do is tell him I wanted a change and he did the rest.
What was it like to go on a casting with Meisel so soon after signing with Wilhemina?
My agency first told me I had a casting with Steven Meisel for Calvin Klein and I started freaking out; I didn't sleep all night. I went to the casting a few days later and met everyone. I remember they asked if I could dance so I started dancing like a mad woman in a pair of Calvin Klein jeans. I left the casting feeling unsure whether or not I got the job, but then I heard that I got booked a few days after that.
What was it like on set with Lara Stone and Abbey Lee for the shoot?
I actually didn't talk to them much because I enjoy silence. During lunch though, we spoke about basic things like my history and my hobbies.
How would you describe your style?
I like weird, quirky things. I do like being colorful in the summer, but I tend to wear black and gray for the winter. But today, since it's summer now, I wore a green blazer with my pink elephant necklace.
If you could meet anyone, dead or alive, who would you like to meet?
Kate Moss. I would like to get to know the person behind the face.
You're about to be stranded on an island, with one person and one thing, what would you bring?
My husband, obviously. And my sandals.
Guilty pleasure?
Cigarettes. I know it's horrible for you, but sometimes I just need to smoke. [Laughs]
What's your diet like?
I love to cook all kinds of Chinese dishes: meats, vegetables, etc. But I can cook pasta, too! Sometimes I go to K-Town in New York to eat Korean food. I workout pretty often at the gym in my apartment complex. If it's nice out, I'll go jogging outside.
What's your favorite …
Musician? The Beatles
Movie? Kung Fu Panda. I prefer comedies.
Book? Any art magazine with a good novel thrown in, too.
Artist? I love Peter Lindbergh. I respect that he uses a manual camera still, and he also rejects retouching.
Can you offer any beauty tips?
Keep it simple and natural. Doing a good mask two times a week helps a lot.
Tell us something about modeling most people don't know.
People don't see the hard work that goes into creating a single picture. They just see an image and think, "Oh, wow, that's a beautiful picture," without really understanding all the work that went into it. It's actually more difficult that most people think.
Where do you see yourself in ten years?
I want to be a stylist; that's my dream.
What's your most favorite feature and least favorite feature about yourself?
I like everything about me. [Laughs] Can I say that?
What scares you?
When a person loses his own humanity.
Explore other rising stars (plus all the big names) in our extensive Model Manual, featuring runway pics, glamorous editorials, model bios, career timelines, and more.