Michelle Obama Went Cycling on Martha's Vineyard
And she wore a safety helmet, of course.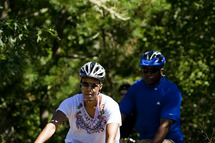 As part of the First Family's summer holiday, the Obamas rode bikes together in the Manuel F. Correllus state forest. Michelle wore a white tee with a bold print at the neckline paired with a pair of purple shorts and blue sneakers. She added a pair of tinted sunglasses, and a snazzy silver bike helmet — safety first! See the look in full in our Michelle Obama Look Book.