Meet the New Girl: Merethe Hopland Can Sometimes Be Selfish, But She Doesn't Mean It
Stumble Upon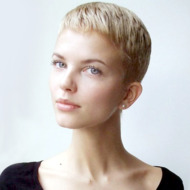 Sporting a Jean Seberg-inspired cut, Norwegian model Merethe Hopland looks like a fresh, Nordic take on a young Charlize Theron. The 20-year-old signed with Marilyn Agency late last year, and is coming off a successful fall 2011 fashion week: Hopland scored a New York exclusive with Calvin Klein, and then booked the Chanel and Salvatore Ferragamo shows in Paris and Milan. As an encore, she appeared in the pages of V magazine, British Harper's Bazaar, and German Vogue, as well as on the runway for the cruise 2011 Chanel show in Antibes. We checked in with the Leonardo DiCaprio-loving, snake-fearing beauty to discuss her idea of happiness, her biggest hopes for the future, and which particular food always leaves her bloated.
Tell us a little about your childhood.
I was born and raised in Bergen, Norway, through and through. I have amazing parents and an 18-year-old brother. My childhood was perfect. I was a happy kid. My summers were spent in the south of Spain, and in the winters we would go skiing. I have to admit that I was a little lazy at school, but knew I could do better. I was very active in soccer and handball since the age of 6, and always loved hiking in the mountains.
How did you get discovered?
Some of my friends heard about a model casting in Bergen, and a model agent from Milan was scouting for a new girl. The agent then brought me to Joy Milan during my summer holiday, and that's where it started.
Most memorable experience from the fall 2011 runway season?
The Calvin Klein show, hands down. And it was my first show in New York Fashion Week. The Chanel show was beautiful, too. I've always loved Chanel. The show, the atmosphere, the music, the people; it was all amazing.

What's your most favorite and least favorite feature about yourself?
I'm a very nice person, but I can be very selfish and not notice it.
Let's play favorites, what is your favorite:
Book? Ghost Heart by Cecilia Samartin. I love all of her books. She writes so beautifully!
Film? The Shawshank Redemption, The Godfather and Inception.
Musician? Everything from Madonna to Bruce Springsteen.
Artist? Leonardo DiCaprio. I´m still waiting for a bad movie or role from him.
Food? Chinese! And my mom's Raspeballer, which is a traditional Norwegian dish.
Place you'd love to travel?
Mount Kilimanjaro. I can't wait until I climb that mountain. Also, China would be interesting because of the culture, food, and rich history. I already think it's fun walking around in Chinatown right here in New York, and I can imagine how much fun I would have in real China!
If you could meet anyone dead or alive, who would you meet?
The first person who came to the planet. I am so curious as to how that happened, what he or she was doing, what they looked like, what the planet looked like, etc.
When you have a day off, what do you like to do in your free time?
I spend my time with my friends — relaxing, having dinners, soccer, watching cinema, hiking, and best of all, doing something spontaneous!
What scares you?
Snakes! I have a serious phobia.
What was the last thing you bought?
A large decaf soy cappuccino.
Your idea of happiness is …
My idea of happiness is when you are surrounded by the people you love. But then again, I can be happy walking alone in New York City, too. My idea of happiness is very simple: It is just an emotion you create by yourself and is your choice. Things will be influenced or affected by your emotion, but it should ultimately be your conscious decision. You can choose to think negatively and be unhappy, or you can think positive and be happy.
Life motto?
What goes around comes all the way back around.
Guilty pleasure?
French bread with tons of french butter. Yum! But I always end up with a swollen stomach afterwards.
What are your plans tomorrow?
Sleep, and I have to get some new sandals.
If not modeling, what would you be doing?
I would have been living in Norway and traveling around the world. Exploring by myself until I figured out what my biggest passions in life were.
What would you like to accomplish in 2011?
I'm not a person who thinks about accomplishing things. I hope for things. What I hope for is that by new year, I will look back and think, "Damn, 2011 was a good year!" And I'll hope that next year will be even better. And on and on.
Explore other rising stars (plus all the big names) in our extensive Model Manual, featuring runway pics, glamorous editorials, model bios, career timelines, and more.