Project Runway Recap: Even Longer Legs Than the Average Model
Stumble Upon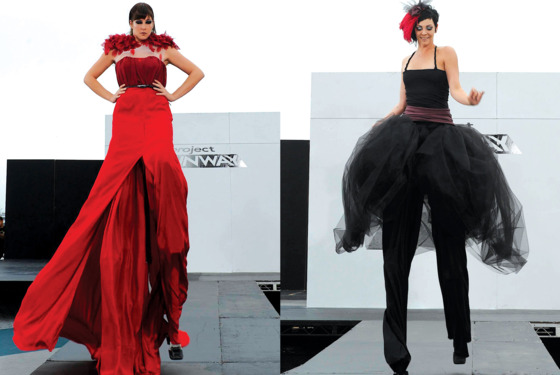 Project Runway
Go Big or Go Home
Season 9 • Episode 3
Complete Series Coverage on
Vulture
So Heidi can walk on stilts; who knew? And how come Victoria's Secret never utilized this talent for one of its shows? Yep, this week's challenge is to design an outfit for a stilt-walker, and just in case such silliness wasn't going to cause dramz and all that jazz, the designers get paired up. Regular Project Runway viewers know this always means a good time. And by good time, we mean meltdowns.
Speaking of, the show gets straight to it: Viktor isn't even pretending to be happy about getting paired up with Bert, and Bert — like last week — isn't even pretending not to be a grumpasaurus. They're both sniping in confessionals, and in the workroom too, unable to agree on anything and being all sorts of passive-aggressive in a way that's actually even a little awkward to watch. (Bert in particular — correcting everything Viktor says and being generally condescending, while seemingly offering very little input of his own. Thus, we are considering renaming him with his workroom nickname: Bertzilla.)
More struggles: Becky and Kimberly, who we will admit is now looking less like Kelly Rowland, are having an uncomfortable time of it, in that they clearly don't get along. But they're trying to be professional about it, to which we say boring. And Bryce and Fallene (the two survivors of last episode's bottom three) are both angst-y and really in trouble from the outset because, to be blunt, neither of them seem that good. Fallene says she has a black cloud hanging over her, so let's hope her hair-dye won't run if it rains.
Most of Tim's time in the workroom seems to be spent dealing with Viktor and Bertzilla's bickering — and the really unfortunate part about it all is that it means he doesn't seem to have time to tell them that their outfit sucks. Not that Tim Gunn would use the word sucks, but, you know, perhaps an elegiac or abstract term that would convey the same meaning. For example: His worst feedback goes to our dream team of Anya and Olivier, whose design he calls "unexpected." (Eek, not our favorites!) Anya's smart enough to note in a confessional that that's a word Tim would use to mean the work sucks.
Amid the hair and makeup montage the next morning, we learn that Fallene's bodice has been cut off-grain, making the polka-dot pattern all weird. Well, weirder. In more worrying news, Olivier is concerned that his parts of the garment will fall apart because he hasn't sewn them properly (Eek, redux), and Joshua is trying to coin a catchphrase with the word 'major.' Cue our Regina George voice: "It's not going to happen."
And then, barely halfway into the episode, it's already time for the show's first outdoor runway session down in Battery Park. It should be noted that a perfectly good reason to never involve the general public again is because we're pretty sure guest judge KIM KARDASHIAN got a louder round of applause than Michael or Nina. Really now, real-world folk? (And let's remember Tim himself said the Kardashians, collectively, have an "absence of taste" last year.) Sadly none of the stilt-walkers fall over (we know that's cruel, but who can say it wouldn't have been funny) but one did walk very awkwardly, because she was on borrowed stilts. Stilt-walkers and their equipment, like wizards and their wands.
In their scoring of the outfits, the judges seem to have been grading very much on a scale of wearable (good) to costume (bad), which, as Joshua notes, is disappointingly discordant with Tim's workroom briefing for the designers to think Parisian couture and even go a bit OTT on purpose. In a show of gallantry that's always out of place on reality TV, Anthony volunteered his partner Laura as the leader in their design, so she took the win; and after another sneaky editing fake-out (we were convinced poor Viktor would, most unjustly, be taking the fall for Bert's bad attitude) Fallene was auf'd for — with the exception of a gaudy fascinator Michael Kors inexplicably approved of — not actually contributing anything to her team's finished design. She was teary, no surprise, but really should've been happy she was put out of her misery this soon. Project Runway has an uncanny knack for stringing the emotional folk along until their breakdowns are spectacular.
Baseless Week #03 Prediction, Fashion Week Finalists: Danielle, Kimberly, Olivier.