A Millinery Expert Analyses the Hats at Zara Phillips's Wedding
Did Princess Beatrice finally get it right?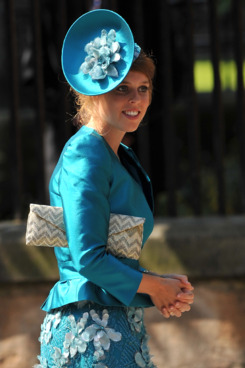 Do you remember what you thought when you saw Princess Beatrice and Princess Eugenie emerge at Kate Middleton and Prince William's wedding? "The first thing I thought was, 'They invited drag queens to the wedding?' I really did, and then I saw the descriptions [of who they were] and can't believe I thought that," says Melinda Wax, professor of millinery at Parsons in New York. But she's not saying that to be mean — she says that because she can see more plainly than most people on this planet that those hats were just not right for the girls. Over the weekend, they got the chance to make up for those mistakes at Zara Phillips's wedding, which brought the long season of high-profile, hat-necessitating British weddings to an end (for now, anyway). Today, we asked Wax to help us comprehend and properly critique the new batch of hats. "If you understand design and you understand fashion, hats are really no different," Wax explains. "If you immediately get a bad feeling about a jacket or a scarf or a hat — you never want a hat to overwhelm an outfit. A person's face is the most important thing to look at and any piece of clothing that overwhelms that is making the same mistake that the wrong hat does." Read on for Wax's thoughts on a few specific — and striking — looks.
BEGIN SLIDESHOW