Salma Hayek on Her Boobs: 'They're Not Bad'
Also, her mom once shaved her head and put egg on her scalp.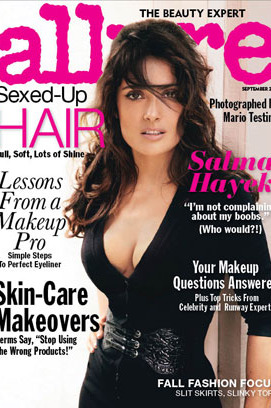 The actress was shot by Mario Testino for this month's Allure, appearing on the cover along with the headline (right at cleavage level): "I'm not complaining about my boobs." In the accompanying interview, she explains that they looked better ten years ago than they do now, but: "They're not bad, by the way." Neither is her hair, which she attributes to her mom, a beautician. "Once, she shaved our heads and put egg on it and all these things. But I have to give her credit — my hair is great." Unsurprisingly, there's no mention of the current scandal involving Hayek's husband, PPR chief François-Henri Pinault, who's in the midst of a court battle with Linda Evangelista over child support for their 4-year-old son.
Salma Hayek: Her Allure Photo Shoot [Allure]