Slideshow: The Week in Street Style
The best of the style blogs, from Atlanta to Amsterdam.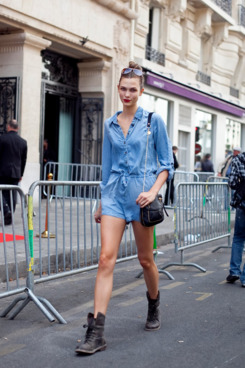 Taking no chances with the summer heat — it's not as bad as previous weeks, but that's relative — this week's best street-shot folk are keeping it short and simple, but, of course, no less stylish. So, don't plan to spend the weekend nearly naked in front of your A/C! Consider these shots inspiration to get dressed up — or down: There's Karlie Kloss (pictured), shot in Paris by Altamira, in a breezy blue romper and beat-up combat boots, and The Glamourai's Kelly Framel in a simple LBD and some snazzy heels. We also like Helsinki native Paula's big red bow, courtesy of Hel Looks.