Slideshow: The Week in Street Style
The best of this week's style blogs, from L.A. to Stockholm.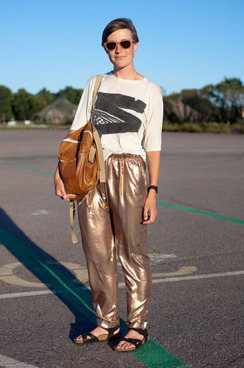 Dressing for the dog days of summer is tricky business, particularly when you're tired of alternating between air-conditioned offices and sweaty sidewalks. The trick, according to folks like model Lina Sandberg (shot in Stockholm by Altamira) and Gabriel (shot in Zurich for Just Another Fashion Blog) is layering fluid fabrics like scarves and sheer silks. Other favorites from the week: Backyard Bill's languid photos of Pamela Love (and her very cute cat); gold pants on Hel Looks, and a great floral jumpsuit (for once, not an oxymoron!) on O Alfaiete Lisboeta. Enjoy.