Tavi to Celebrate All Things Granny With 'Advanced Style' Blogger Ari Seth Cohen
They're hosting a party together during fashion week.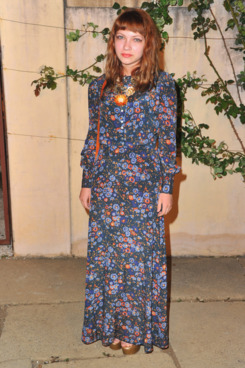 Although Tavi is certainly not elderly, she's professed her appreciation for granny style many times (and backed it up with many an outfit). So it goes without saying that she's a fan of Ari Seth Cohen's blog, Advanced Style, which is dedicated to elderly folks in grand, kooky outfits. The pair will celebrate "age and style" by co-hosting a party at the Ace Hotel during Fashion Week this September, which will undoubtedly include an interesting mix of lovely-looking old ladies, fashion people who lie about their age, and crowds of everyone and their brother trying to talk to Tavi.
Advanced Style Goes Live at the Ace Hotel For New York Fashion Week: Hosted by Ari Seth Cohen and Tavi Gevinson [Advanced Style]