The Jersey Shore Stylist Claims Designers Are Much Less Resistant to Dressing Cast Members for the VMAs Than They Were a Year Ago
But Abercrombie did give some labels the idea to ask her not to dress the cast in their wares.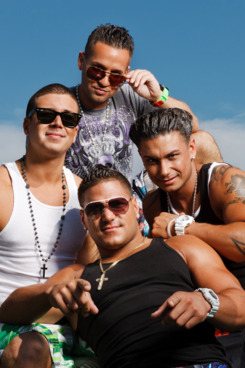 Whether or not Abercrombie's halfhearted attempt and wholehearted publicity ploy to get The Situation and other Jersey Shore cast members not to wear their clothes has had any effect on the retail climate remains a question. And even saying that is probably giving Abercrombie a lot of credit. But! Jersey Shore stylist Jeni Elizabeth, who dresses the cast for public appearances like the Video Music Awards this Sunday, says that her work, at least, has felt some after shocks. Apparently Abercrombie gave other labels popular with the Shore animals the idea that they, too, could request not to be associated with the show, though some of them went about it classylike and didn't blast the press release to every media outlet in the country:
"I absolutely felt the aftermath of the Abercrombie issue," Jeni tells us. "I received phone calls and emails from designers that wished to no longer be associated." But she's taking it all with a grain of salt: "To be honest, I find it comical. Coming from a company who profited off of this cast and their slogans, I am not sure how other designers didn't see this as a PR stunt. However, at the same time, I respect and honor each designer's feelings."
The Jersey Shore Stylist Says The Abercrombie "Situation" Has Affected What The Stars Wear [Glamour]