André Leon Talley May Be Leaving Top Model, Replaced by Kelly Cutrone
This news is dreckitude.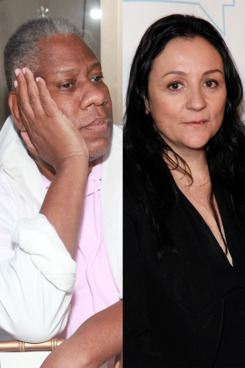 After four cycles of nonsensical antics, bad weaves, and made-up words, André Leon Talley may be leaving America's Next Top Model, according to "Page Six." To replace him, Tyra Banks is said to be lining up Kelly Cutrone, former star of Kell on Earth and founder of PR firm People's Revolution. With Tyra's vague statement earlier this year that there'd be no more "normal" editions of the show, perhaps A.L.T. will take his final bow as the show veers off into new, and bizarre even by ANTM standards, directions. And with copious branding and reality TV experience behind her, Kelly will no doubt be as blunt and uncompromising as a top Top Model judge should be — maybe even with a dash of old-school Janice Dickinson crazy, which would be entertaining. But she'll also have to back down on that key piece of titular advice from her first book, because when Top Model contestants cry, they're expected to do so inside and on camera, preferably in front of the judging panel, too.
Diva swap [Page Six/NYP]