Anna Dello Russo Loves This Embellished Minidress So Much She Has It in at Least Three Colors
And this is the woman who never wears the same thing twice!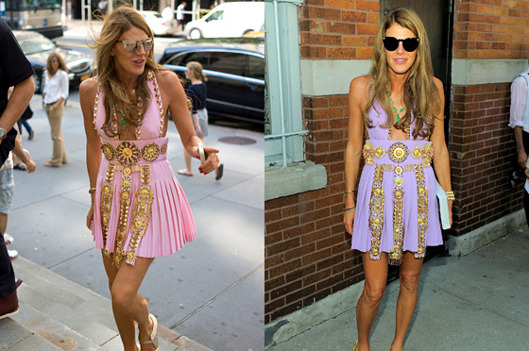 Anna Dello Russo often tells reporters she never wants to be photographed in an outfit more than once. The Japanese Vogue fashion director is known to change multiple times a day during show season — and certainly has enough incredible items in her wardrobe to keep the street style photographers busy. Yet, this New York Fashion Week, she wore the same bejeweled mini-dress by Fausto Puglisi in purple on September 8 and 9, and in pink on September 12. And she previously wore the dress in yellow for a video of her dancing to Lady Gaga's "The Edge of Glory," which she posted to her blog. (She also wore a white long-sleeved dress that looks to be by the same designer to parties last night.) What's more, when she wore the frock on the 8th, she wore it at the same time as someone else.
Related: One-Woman Show