ANTM Cycle 10 Reject Fatima Siad Walks Dries Van Noten
This may be the first time an 'ANTM' contestant landed a job like this.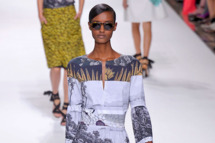 As in, a legitimate high-fashion job! The Somali model won approval by revered casting director Russell Marsh for Dries Van Noten's spring 2012 show, which walked today in Paris. Yes, folks, this means the 24-year-old worked alongside Karmen Pedaru, Sigrid Agren, and other rarefied ladies who get to model on these runways. This may just be the first time an ANTM castoff landed veritable high-fashion runway work — and if we're wrong about that you ANTM fanatics will surely chime in below to correct our grave misstatement.