ANTM Recap: André Leon Talley Has a Slight Hankering For Hot Dogs
Yes, hot dogs. <em>ANTM</em>'s All Stars are that hungry for success.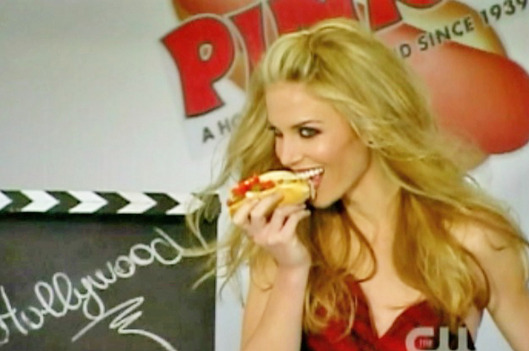 Apparently, the key to success for ANTM's All Stars is to be able to build a solid brand, so Tyra hires a brand strategist to help them get started. (Actual modeling potential is just so twelve cycles ago.) This "help" consists of some delightful passive-aggressive snarky counsel, followed by a seemingly random assignment of "key words" that will define each girl's brand identity. These words to live by include "proud," "candid," — which Bianca, as expected, takes to mean that she can start drama-mongering like it'll pay the rent — and "survivor." Sadly, the lesson does not involve even a single novelty cattle prod or branding iron — surprising, because goodness knows how much Tyra loves zany skits and the chance to dress up like an animal.
Here's this week's video roundup to enjoy — savor, if you will: