ANTM Recap: André Leon Talley 'Saw a Cinematic Moment of Something Wonderful'
And, despite what you might be inclined to believe, that moment was in one of this week's challenge photos.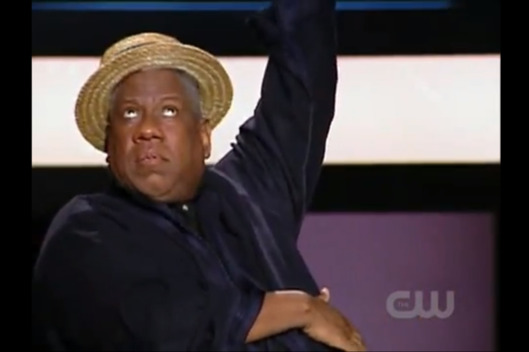 This week's episode was rather morose and filled with ennui, almost as if the news of André Leon Talley's departure from the show had traveled back in time to put a cloud over everything. In a sad, but no doubt truthful indication of the level of post-show "fame" the contestants can hope to achieve, Kristin Cavallari shows up to impart advice. Which is basically that haters gonna hate. She has a shoe line though, and she's on Dancing with the Stars, so it's okay!
Before announcing the eliminee, Tyra declares the shoot, this stupid hammy-poses-on-stilts shoot, one of her favorites — not only because she considers the photos high caliber, but also because the girls are special. (And somewhere in Paris, cycle ten alum Fatima Siad is thinking, "Well, that's rich.") Though apparently neither of their photos were the worst overall, of the six girls vulnerable this week, Isis and Angelea were deemed the weakest. Angelea gets a reprieve, though she's told she has to balance her sass with some "polish and sandpaper," which is silly, because she isn't a carpenter, she works in a bank. And although it's an early exit again for Isis, at least she gets to leave wearing a nice funny hat.