Backstage Video: Marchesa's Georgina Chapman and Keren Craig on Just How Long It Takes to Make Those Fairy Princess Dresses
Three months and many, many hours is not uncommon.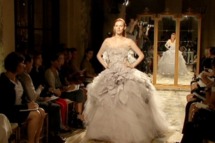 A Marchesa dress might sit on a mannequin for months before it is ready to be shown, so detailed is the craftsmanship. Yesterday, Georgina Chapman and Keren Craig sent 31 beautifully crafted cocktail dresses and evening gowns down a runway at the Palace Hotel. Backstage, Karen Elson practiced walking in the penultimate dress — the biggest in the show — which was still being trimmed and fluffed on its mannequin just before showtime. In the video, hear Craig and Chapman discuss the collection and just how they transport the gowns without ruining all those months of work.