Backstage Video: Thakoon on the Pink and Blue Hair and Cowboy Hats in His Spring Show
The designer shares some insights on his inspiration.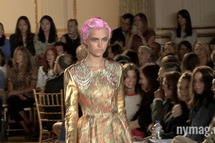 The Thakoon show in the Grand Ballroom at the Plaza hotel yesterday was an explosion of color, metallic, paisley, cowboy hats, and pink and blue hair. Apparently it was a riff on the cowgirl style of the American west and the vibrant colors and paisley patterns of India. In the video, hear designer Thakoon Panichgul talk about the hats by Heather Huey, what, exactly, was on the hair, and more.