Backstage Video: What Sally LaPointe's Collection Has in Common With a Smallpox Hospital
The look of those decaying walls actually translates nicely to printed dresses.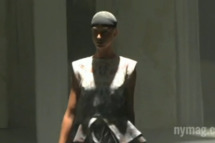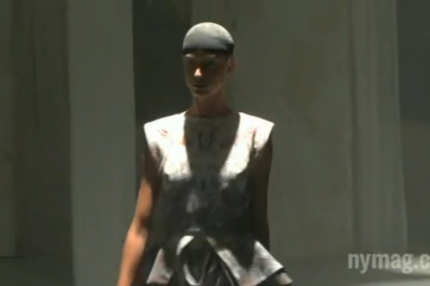 An abandoned smallpox hospital on Roosevelt Island is one of the more unusual places to begin work on a fashion show, but that's where Sally LaPointe's spring 2012 collection began — LaPointe digitally created prints to look like the hospital's crumbling walls. When looks didn't come in earth tones, they came in neon — which we've seen on many runways so far this season — and black. Now in her third season, LaPointe's business and show has grown significantly, thanks in part to dressing Lady Gaga after finding a fan in her stylist Nicola Formichetti. It certainly isn't hard to see Lady Gaga in one of those long sheer skirts, styled for the runway with only a thong underneath. Hear more from LaPointe — including how her personal beauty routine is like Michele Bachmann's — in the video.