Best Bet: Nars Silver Odyssey Collection
This glitzy, high-quality duo is available during Fashion Week only.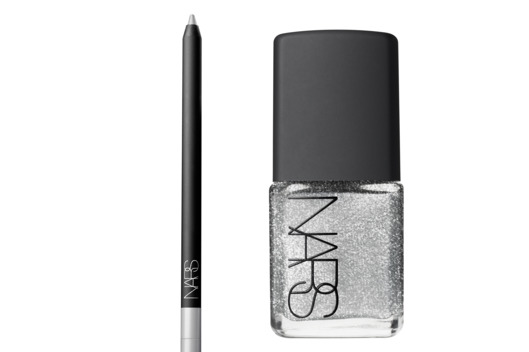 Maybe the manicure lines at Chanel were insurmountable last night or Essie's stations at the Bleecker Street block party were slammed. Either way, you still have time to snag some limited-edition beauty swag: the Silver Odyssey collection at Nars, available for one week only. The glam, high-shine polish makes a proper complement to your favorite over-the-top cocktail ring, packing a hint of sparkle without the rough, uneven consistency of cheap glitter polishes. It's also gratifyingly long-lasting: After wearing it around for a full week, our tips were still chip-free. The metallic liner is an easy trick for nights when you don't feel like full-on smoky lids. It has a slightly waxy consistency, staying put substantially longer than standard drugstore pencils. A thin swipe along the bottom lash-line brightens and accents eyes — similar to Tarte's nude EmphasEyes — creating an alluring night-out look.
Via Crispi Larger Than Life Eyeliner in silver, $23, and Space Odyssey Nail Polish in aluminum, $17, at Nars or online.