Beyoncé's Baby Bump Is Still Sparkling
She paired sequins with more sequins.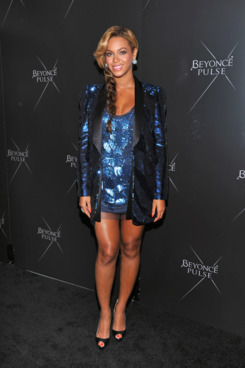 Beyoncé attended last night's New York launch of her new perfume, "Pulse," wearing a sequined blue tuxedo-style jacket over a sequined and crystal-embellished mini dress (so short the jacket fell lower), both by Roberto Cavalli. She accessorized with black peep-toe heels, a pair of light blue earrings, and bright orange nail polish.
Now, this is Beyoncé, so dressing down is really out of the question. But how do you feel about sequins on top of sequins on top of a baby bump?