Hair Goes Rainbow Brite
Don't put away the Manic Panic just yet.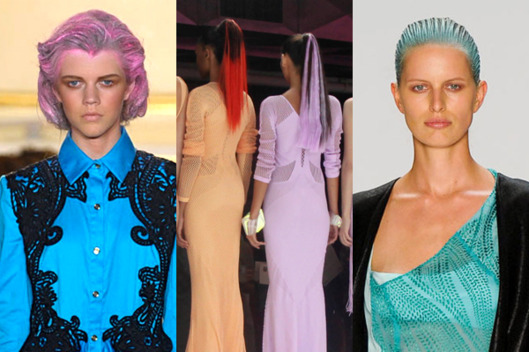 Charlotte Free made her runway debut on the Richard Chai runway last February with shocking pink hair, which instantly made her a street-style favorite. Come summer, the look exploded all over Hollywood: Snooki was spotted with pink and blonde tips; Lauren Conrad experimented with rainbow hair; Gwen Stefani's 5-year-old son, Kingston, had a blue Mohawk; and Kate Bosworth added green tips to her icy-blond strands. Lest you think that Snooki is capable of killing a trend, rainbow hair is still going strong for next spring. At Thakoon, models were painted with colorful clay powders in pastel shades, while ponytails were coordinated with the looks at Faster by Mark Fast. And, over at Narciso Rodriguez, hair was slicked back before being dyed hues of orange, yellow, blue, purple, and white.
See the Complete Thakoon Spring 2012 Collection
See the Complete Faster by Mark Fast Spring 2012 Collection
See the Compete Narciso Rodriguez Spring 2012 Collection