Critics Praise Jason Wu's 'Collectible' KAWS Prints, Reject Richard Chai's Kilts
"You wonder what young designers feel about the times. Does anything bug them enough to express it with some energy and conviction? Or are they afraid to offend someone?"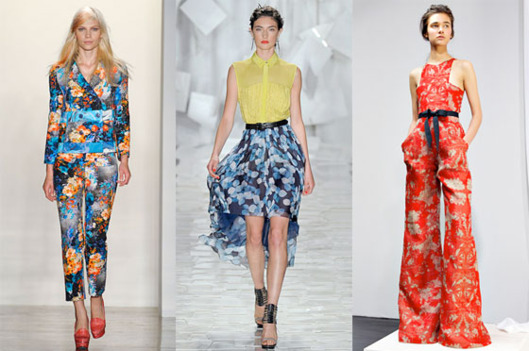 Spring Fashion Week is in full swing, and the critics are circling. Prints by graffiti artist KAWS lent Jason Wu's typically prim ensembles a welcome edge, and most critics were pleased by the sexed-up Barbie Doll–inspired looks at Cushnie et Ochs. Though criticism has been mild thus far, Cathy Horyn yawned over Peter Som's florals and Fashion Week Daily called Richard Chai's layered kilts "head scratchers." Click ahead for the full report.
THE HITS:
Jason Wu
• "[P]retty and proper is what Wu does, and this Spring collection was no exception… 'Old-school techniques that look electrocuted,' was how Wu described the effect. Sounds weird, but it was charming." [Style.com]
• "[D]istinctly hard-edged… his chiffon prints remain drenched in sweetness, but at least this time he showed some toughness." [NYT]
• "If this sounds familiar, you may be thinking of Raf Simons' collection for Jil Sander for spring 2011… There was no overcooked severity or theatricality… its evening wear wowed." [Vogue UK]