Critics Laud Simplicity at Jil Sander, Embrace 'Tacky-Sweet' Touches at Prada
"The entire collection oozed Versace sex appeal and the glossiest, poutiest glamour imaginable."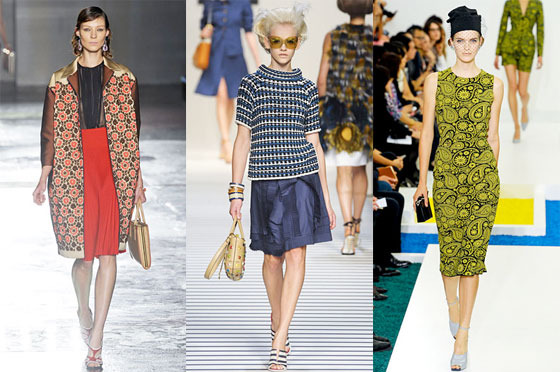 The critics have left Milan for the final leg of spring 2012 Fashion Week. The reviews from Italy were largely glowing, from the modernist Jil Sander collection to the auto-inspired dresses at Prada and "seaside chic" looks at Versace. Still, there were a few missteps: Cathy Horyn found Gucci's collection "befuddling," while WWD asserted that the Versace show "lacked oomph." Read the full report below.
THE HITS:
Jil Sander
• "[A] firmly modernist view expressed in almost every detail … gorgeously and surprisingly expansive …. This may have been Mr. Simons's sexiest collection for Jil." [On the Runway/NYT]
• "The lean, tailored, below-the-knee lines of Simons' dresses were all about complete mastery of his métier, same quality you'd recognize in a couturier, an architect, an artist … Emblematic, also, of a more hope-filled era." [Style.com]