English Channel: Keira Knightley Does Her Best Anna Wintour
In a dress by Mary Katranzou!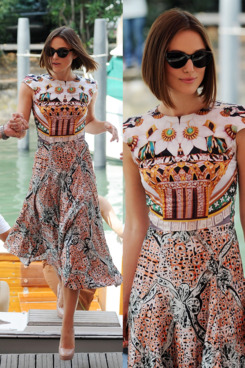 Today Keira Knightley arrived by boat to a dock at the Venice Film Festival's A Dangerous Method photo op wearing a Mary Katranzou dress with her hair in a terribly chic bob and big, dark sunglasses. The cut and print of the dress, the nude heels, the hair, and the shades all together can't help but scream Anna Wintour, and in the best way possible, if you ask us.
Knightley probably avoided wearing any accessories because the print of her dress is so strong on its own, but would you have liked to see at least a necklace or watch or something else with this look?