Eva Amurri May Have Design Aspirations, Will Wear Lela Rose at Her Wedding
She and mom Susan Sarandon attended the Lela Rose show today.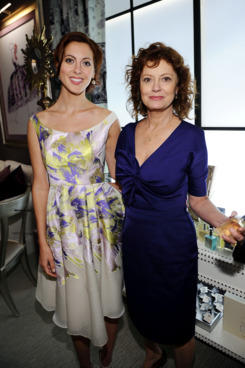 Eva Amurri and mom Susan Sarandon attended Lela Rose's show today, as the designer did all the dresses for Amurri's forthcoming wedding (including gowns for her bridesmaids and Sarandon). Seeing as she's marrying a former soccer player, does Amurri have any Victoria Beckham–like fashion aspirations? "Oh, me? You know, I don't know. I have a few ideas to make certain things more accessible to a lot of different kinds of women, so I'm thinking about maybe doing something like that," she said. "I really enjoy fashion." Sarandon said she liked Lela's show, but couldn't wear most of it: "Because none of them were wearing bras — did you notice? No backs!"