Runway Tumbles Can Strike 'Savage Blow' to Models' Careers, Warns the Daily Mail
As if models weren't trying hard enough to stay upright as it is.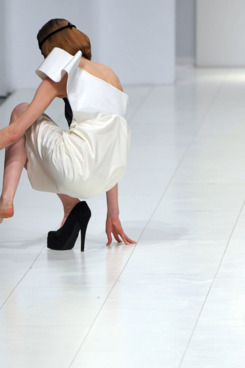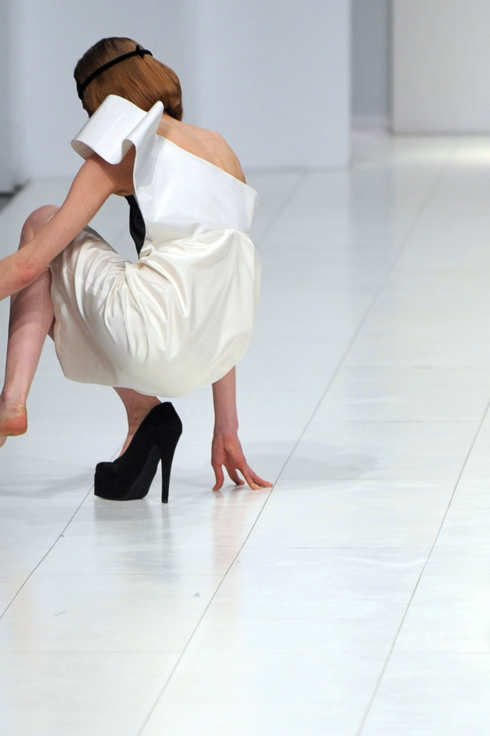 In what's basically just an excuse to publish half a dozen pictures of various models falling on their faces, the Daily Mail had a story today about what stumbling on the runway can do to a girl's modeling career. It includes some ominous quotes from unnamed sources saying that tumbling can spell the end of a contract: "It's quite common for girls to be quietly dropped by their agents after tripping or falling during a show," one "insider" warns darkly. But the truth is that catwalk carnage often garners more publicity for the show than the collection may get on its own. While it's horribly cringe-inducing to watch knobby knees hit the floor, people will seek out pictures and video afterwards, particularly if the model is a big name. What's more, most falls are caused by tricky shoes getting tangled in long hemlines, as one did at Amanda Wakeley's show yesterday, which even the most experienced modeling pros can't do much about. So, in other words, falling models — once they pick themselves up — don't hurt much more than their own poor bony selves.
A bad trip: As model stumbles at Amanda Wakeley show, industry insider warns it could deal savage blow to her career [Daily Mail]